Meet Your Coaches
Get to know the team and coaches committed to creating a better, healthier you!
Going into my 5th year in the health and fitness industry, I've now worked with over 3,000 clients around the world. I've lost close to 90lbs myself through getting my nutrition in order and gone from having panic attacks thinking about exercise when I was 250lbs+ to now loving every aspect of fitness.
I have helped hundreds individuals transform themselves. From folks losing 200lbs+ and taking their lives back, to high level athletes needing just that extra fine tuning to qualify for competitions, and everything in between. Busy working mom or dad? Seemingly no time to take of YOU? I will show you a sustainable way!
About 8 years ago, When my daughter was two, I found myself struggling, mentally and physically. I was the heaviest I had been in my life, at 175 pounds at 5'3" and stuck. It wasn't until then, that I said "enough is enough!!" So, I did P90x, Crossfit, and all of the things to get this weight off!! But....... I learned that my training was never going to outweigh the way I was eating. I was introduced to tracking macros, hit that sweet spot, and there was no turning back! The weight came off, workouts felt strong, and most importantly I didn't have to say to my daughter "Mommy's too tired". Getting to a point where I knew the what's and why's of food brought me into a state of bliss. Being a real-world, busy, and on the go now mother of two kids, I knew I needed to stay healthy for them!
I have been an advocate for fitness and nutrition for most of my adult life. I've done Crossfit, I've been a competitive powerlifter, and now I love my Orange Theory, practice in Brazilian Jiu-Jitsu and look forward to competing and celebrating my training! Dialing in my nutrition has tremendously helped me through all of this! So much so that I pursued my nutrition coaching certification and have followed my passion toward sharing this journey with others. I'm thrilled to continue sharing my love for nutrition and help my clients to reach that same state of bliss, help change their mindset about how and what they are eating, create long term sustainable success, and a knowledge of food that will last for a lifetime!
I am an early 50s army wife and mom of 4, ranging from age 24-8. I am a native San Diegan living in the San Antonio, TX area. I have literally done every diet on the planet. Finding a way to not only lose 50lbs, but maintain my loss for the last few years has been life changing! I began my journey while working nights and pursuing my bachelor's degree - no small feat, but it CAN be done.
Deciding I was worth the effort enabled me to unlock so many facets of my life! What started with food has turned into so much more! I did not begin regular exercise until my 40s, but even then it was with the goal of losing weight - not because I liked it. As I uncovered the new me physically and mentally, I found things I truly loved! I adore my Peloton, lifting, OTF and running and I feel great doing them. I found myself wanting more - so I have pursued and completed a marathon, ultra and 26 mile heavy ruck at Bataan and many Tour de Peloton events. I actively seek opportunities to challenge myself& I have gone from recreational exerciser to endurance athlete. I am passionate about helping others tap into their own potential to be the best versions of themselves. It may start with food, but the end result, once you realize you CAN do anything you set your mind to, will blow you away!
I was first introduced to how vital nutrition is in one of my science courses where I was taught by a Registered Dietitian during my Junior year of college. After graduating with my business degree and working for a successful retail company, I knew that my passion was nutrition education and went back to school to pursue my nutrition degree. Despite all my education and becoming a Registered Dietitian with a master's degree in nutrition, I still struggled with my weight and finding a nutrition program that I could adhere to as a lifestyle without feeling restricted. I finally found that program 2.5 years ago and feel at ease with my lifestyle knowing that I can still enjoy all my favorite foods without eliminating food groups or following meal plans. Now, I focus on how nutrition can fuel my favorite workouts like weightlifting and cycling.
Working in a clinical setting, I have seen diseases that could have been prevented with nutritional intervention and love working with people to change their lives for the better. I feel just as passionate with coaching to help you achieve your goals. It's never too late to feel like your best self and today is the perfect time to start!
Hi! I'm Coach Missy.
I'm a 38 year old mom of 18yr old twins and 12yr old triplets. I love being a Mom & a nutrition coach! My biggest passion and reason for becoming a nutrition coach was to help people successfully make changes in their life instead of just wishing for better. I learned nutrition has an impact on every area of your life!
My personal struggles with weight started in my teens. I ate my feelings and carried that into adulthood. As I got older the weight just crept up out of control. The stresses of life had me thinking there's no way I can focus on my health. But how could I not?! My energy was literally running out! I was tired all of the time and I skipped out on most things that I felt were out of my endurance ability. I had no idea how food worked in my body or how to live healthy in my crazy life! I thought I was too busy, too far gone, had too low of a metabolism, and that it was all just simply too out of reach.
I needed to do something! So a few years ago I signed up to work with coach Jason. I needed a program that could hold me accountable, offer me lasting results, and give me a solid success plan. It was one of the best decisions I've ever made. To say he helped me change my life would be an understatement!
With his help, I learned to manage my food intake, power through weak moments, and give myself grace. I'm proud of my victories and done with wrong mindsets. The best part is that I've learned the skills to have control over how I want to live. Food doesn't tell me how to feel anymore! I now have a healthy relationship with my food, more energy for my family, and more drive and desire to exercise and try new things. I love and enjoy all the things that used to give me anxiety. I love to explore new places, go to the gym, go for long walks with my hubby, travel, ride my bike, and play with my kids. I finally feel healthy enough to live the life I've always wanted to participate in. I just feel BETTER!
The whole process inspired me to want to help others take the journey to take back their lives on their terms. It's been a privilege to study and become a certified nutrition coach for Team Falcon. I'm excited to help people change their lives! I can't wait to equip you and support you through this awesome time in your life! I'm going to be there for you, support you, and teach you the skills for making good nutrition choices so you'll have real success. So unpack all those big dreams and goals and let's go!
I've always been heavy. From grade school on, except for a short period in college, I was always big. I just thought that's how I am. After hitting an all-time high at age 35 realizing how fast 40 was coming, I made some adjustments and dropped the weight, but some of it came back and felt like I failed. Again.
It wasn't until my mid 40s that I started moving on a regular basis. Even after a couple of years despite my nutrition knowledge, eating "clean", and working out 5-6 times a week at my CrossFit gym, I realized what I was doing still was not working for me. It was when I started working with a nutrition coach that I realized how much I was really consuming and the habits that led me to 270 pounds at 5'11".
Having been through the mental and physical shift to a sustainable lifestyle without unnecessary restriction, I now have strategies that have spilled over into other areas that aren't just about food. Now, I can help others do the same. Life can be busy, but we'll learn how to navigate this together.
If you're ready to learn and willing to do the work, I'm in. Let's change your life for the better.
I'm married with 2 kids, 3 dogs, and fill my free time with cooking, coffee, Marvel and Star Wars movies, free weights, Peloton bike, and whatever else my family has planned.
I've been been a health, wellness, and fitness enthusiast for a good part of my adult life, but my journey truly began after receiving my first college degree, a BS in marketing, in 1991. Disillusioned by the business world, I decided to fill my time between job-hunting by becoming an aerobics instructor. The course was taught by a physical therapist and I was immediately enchanted by her knowledge and mastery of the human muscular system. The rest as they say is history. I applied to a Masters program and received my masters degree in physical therapy in 1996. I continue to work in this capacity serving both the geriatric population and a multitude of different pathologies in a clinical outpatient rehab setting specializing in Pilates. I am also Pilates reformer certified and consider that one of the great healers of chronic pain.
Full disclosure, while I've never had a significant, health-concerning problem with being overweight, I have definitely had extra pounds and have been less fit many times in my life. Finally dialing in my nutrition four years ago changed my life for the better in more ways than I can count. It spilled over into all aspects of my life and even gave me the discipline to get out of debt. Becoming a nutrition coach and helping others reach their goals feels like the cherry on the sundae of my life 😊
I can tell you that I am no stranger to hard work. After many painful experiences in my life, I have been known to turn to other means of self medicating that I have had to leave behind to become a better me. So believe me when I tell you… I get you. I get the difficulty of the journey. I get the struggles. I get the wanting more for yourself. I get what it feels like to succeed at a goal, and to fail. If you trust me with your journey, together we will make your life change.
I make my life in Scranton, Pa (hey Office fans!!) and my other passions include my children Mairin and Grace (all grown up now), my fur babies Phinneas and Hazel (and let's face it all fur babies), coaching CrossFit athletes and, oh yeah, silver hair 👩🏼‍🦳🙂!
I am thrilled to be a part of the Falcon family and i am excited to bring you into the best version of you imaginable.
I had struggled with food and body image for years. I tried so many diets and trends but I could never stick to them for longer than 2 weeks. I didn't succeed with those because giving up food groups and dealing with tedious meal plans just wasn't for me. A couple years ago, my wedding was in the not so distant future and I knew I needed to do something I could stick to that would get me to my goal while simultaneously getting me feeling great on my big day. Not only did I reach my goals through tracking macros, but I also gained a wealth of information about food and myself. I was hooked and I knew that I wanted more people to know that there was another way!
I share my home with my wonderful husband and my spoiled pup, Gracie. I've been a vegetarian for over 20 years and I'm a big animal person. I like hot yoga, lifting and running in local 5ks and 10ks throughout the year. I enjoy organizing and creating everything from infographics to spreadsheets!
The clock is ticking. Are you becoming the person you want to be?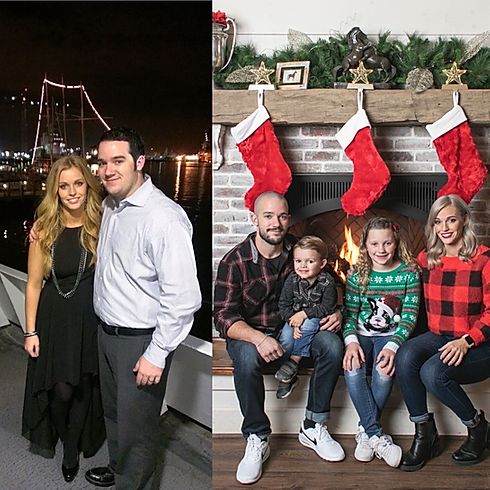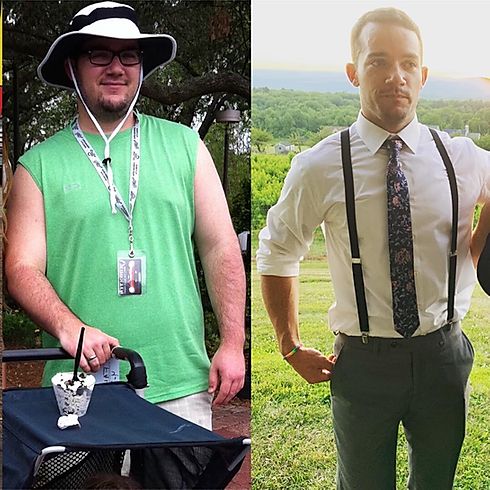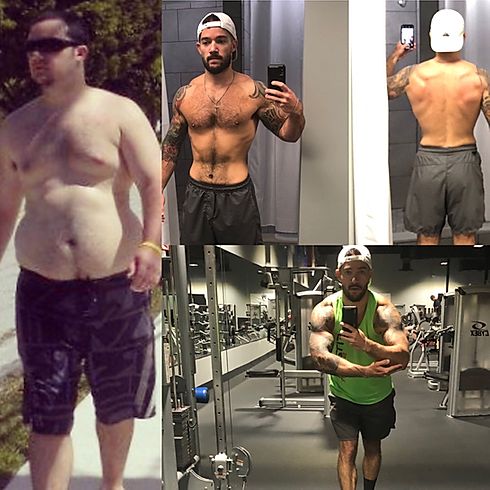 Sign Up Today &
Start Seeing a Difference.
Three months from now, you'll be thanking yourself.